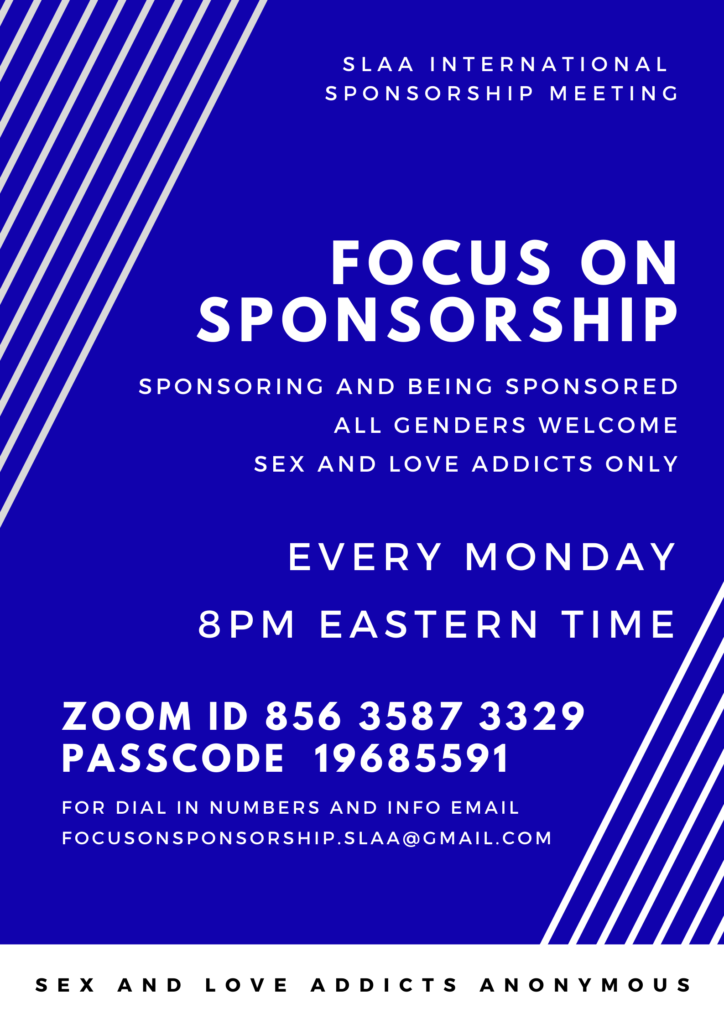 EVERY MONDAY 8:00 P.M. EST / 5:00 P.M. PST

Closed Meeting (Only those identifying with sex and love addiction may attend)
Meeting Format All genders welcome
Languages Spoken English

HOW TO CONNECT:
If you have problems connecting, please contact this group Send Email to This Group

Meeting Links Visit Link
Online Meeting ID 856 3587 3329
Phone 9167654361

Connection Instructions Use the Zoom link or dial one of the Zoom connection numbers below. Meeting ID is 856 3587 3329. When prompted, type in the password 19685591. You will be connected directly into the Zoom meeting. Please rename your image when you are joined in.

Additional Group Information This Zoom meeting is focused on the topic of sponsorship our program. Through speakers, readings, workshops, and meditation, this meeting explores the essence and nuances of sponsoring and being sponsored.
Sponsors play a critical role in making the Steps meaningful to the recovery of others as a reliable, trusted support for the sex and love addict.
This space is reserved for sponsors and sponsees to share and hear the experience of others on these important issues.