Post the News as SLAA Announcements in Online Meetings and Chat Groups:
Tradition of the Month: "4. Each group should be autonomous except in matters affecting other groups or SLAA as a whole.." You can study the SLAA Traditions here.
Foundations of Recovery – Workshop Recording – reminder that getting our foundation right in SLAA is essential. Help for newcomers to set bottom lines.
SLAAvirtual Online Meetings – see our Meeting Notice Board for the latest additions. SLAAvirtual Intergroup now comprises 43 SLAA Groups holding 83 Meetings per week. Thank you all for your Service.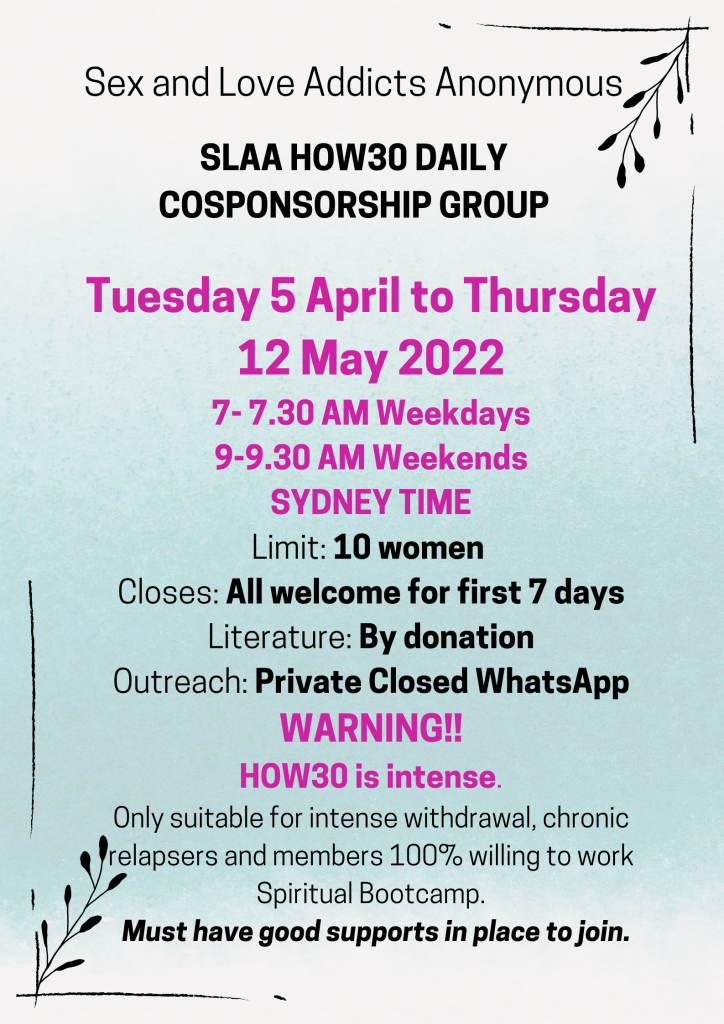 SLAA Prayers have been updated here (non conference approved). You can join our Prayer and Meditation Group by asking the Helpline.
First Version of the Agenda for the 2022 Annual Business Conference of SLAA is available online here.
Characteristics of Fantasy Addiction are in development by the CMRC. You can view the current draft here. To join our Fantasy Addiction Group, ask the Helpline.
Unofficial SLAA Glossary of Terms & Jargon is a helpful resource for newcomers.
Women's SLAA meetings. A frequently requested resource. If you'd like to add a meeting or edit one:
To see the list, go here.
SLAAvirtual Helpline: SLAA's first WhatsApp Helpline. Open 24/7. 12th Step support is now also available in French, Spanish, Portuguese, Hindi and Persian. To join the team of SLAA volunteers contact us.
TheJournal – your meeting between meetings! Two fantastic new issues are available. Thank you for your service everyone on the Conference Journal Committee. You can subscribe to the Journal for delivery in print here.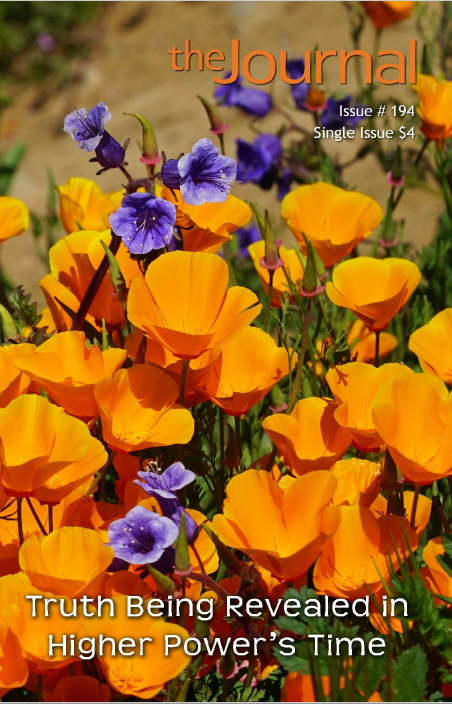 Journal Question of the Day: What is anorexia withdrawal in your experience? What tools helped you deal with the pain of withdrawal from anorexia without retreating back into anorexia? Answer any time before 15 May via this Google Form!
Special Offer FREE SHIPPING on all Online Store Orders of USD75 or More. All other discounts apply except the International 25%. Note F.W.S. still not shipping to THIS LIST of countries.
SLAA YouTube – over 25 inspiring member shares! All SLAA Groups and Intergroups are invited to submit recordings to the Channel. For more information, contact the CPIC here.
Group Roles: do you need to define the service roles for your Group? See these suggestions from SLAAvirtual. No need to re-invent the wheel! To request an editable version to adapt for your own Group, contact us.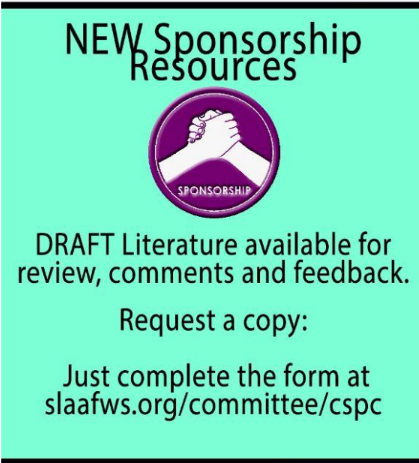 SLAA Events Calendar lists SLAA events all over the world and online. Please add your Group's events that are open to newcomers.
Sober Sisters Talk – our favorite podcast here at VFN! Two new episodes this month. Thank you to Elizabeth, MG and CJ of SLAA Houston for your service
How to become a Trans Ally (Episode 132) Eva shares with us her own transition into becoming the Grandparent to a Grandchild who is starting her own transgender journey. It's a process of discovery and change. Eva shows us how to deal with this big change with grace, curiosity and tools of recovery.
Speaker Series – Story #20 (Season 1, Ep. 20) Listen to Ashly share her story of recovery from sex and love addiction – what it was like, what happened, and…the best part…what it's like now!
Inspiration Line: you can call the SLAA Storyline +1 (215) 574-2121 or the Inspiration line +1(215) 574-2120. International call charges to the US apply so we suggest use Skype or similar discounted service.
SLAA WhatsApp Groups: see our Directory of Groups that welcome sex and love addicts. Contact SLAAvirtual to add your Group. See here for Step-by-Step instructions how to create your own SLAA WhatsApp Group.
FWS Board News: The Board has appointed Sam E., subject to Confirmation at the 2022 ABC/M, to complete the Term ending in 2024. On-line and mail in Registration for the 2022 ABC/M has begun. FWS URGENTLY needs volunteers for the Board Technology Committee to help deliver the 2023 ABM in a hybrid format. Can you help? You can contact our Board on this or any other matter here.
FWS Newsletter for March Quarter is now available online.
SLAA 2022 ABC/M will be held in person only at Hilton Arden West Hotel in Sacramento, California. Generous subsidies apply this year. Register early by 26 May for greater discount.
SLAA Service Forum: a forum for members doing Service to ask questions and find support. All welcome to join.
7th Tradition: to help carry the message, please consider making a small, regular monthly donation to SLAAvirtual by credit card, PayPal or direct debit here.
SLAAvirtual Intergroup, Inc. met as usual at 4PM ET second Sunday of the Month. All welcome. The main topics were launch of the online store, copyright protection, member safety and fundraising. See our Meeting Page to attend.
To volunteer on our editorial team or contribute your Group's news to this Newsletter, contact us.