HAPPY NEW YEAR!
WE HAVE LOTS OF GREAT NEW SLAA EVENTS AND MEETINGS TO KICK OFF YOUR BEST YEAR EVER!
SAVE THE DATES!  Exciting news!  The 2022 SLAA Intergroups Forum will be on 19 and 27 March 2022.  Free event hosted by the CICC.  A great way to meet others doing service at Intergroup level.  Register here.
Tradition of the Month: 1. Our common welfare should come first; personal recovery depends upon SLAA unity. You can study our Traditions ​here and find lots of information how to apply our Steps, Traditions and Concepts by searching the SLAA Knowledge Base.
SLAA YOUTUBE has published a new Recording RECOVERY FROM LOVE ADDICTION WITH THE FIVE Ss Huge thank you Nora B of Orange County for your Service!
7th Tradition: to help carry the message, please consider making a small, regular monthly donation to SLAAvirtual by credit card, PayPal or direct debit here.
TheJournal – Our meeting between meetings! Download free from SLAAfws.org and subscribe to have the print version delivered. Now is a great time to review and re-set our Top and Bottom Lines for the new year: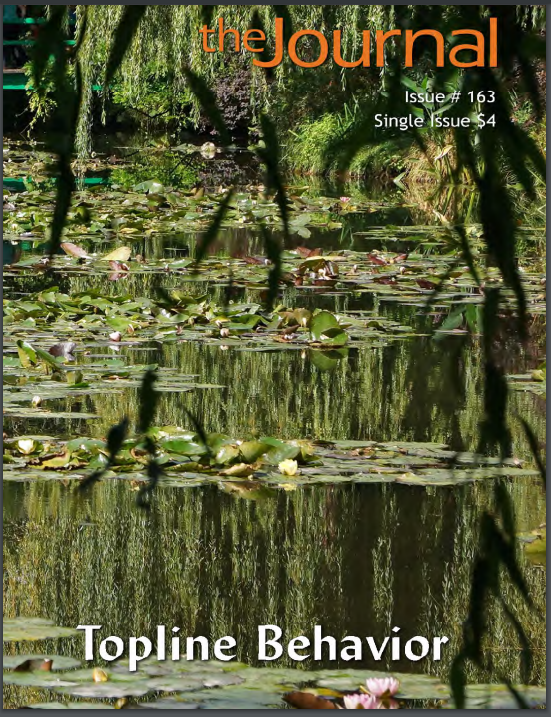 SLAA Events calendar lists SLAA events around the world. Easy way to let all members know.
UK based We Recover Together has gone international by opening their first SLAA Group in India! Congratulations Ry, Alex, Dhawan and all the team. Go, India, go!!
In other news:
We Recover Together – India Chapter Every Friday SLAA Big Book Study! Mixed 6:30pm Indian Time / 2pm Berlin / 1pm London / 8am NYC
SLAA Married and Long Term Relationships – closed meeting every Sunday 11.30PT
SLAA CoSponsorship 12 Step Workshop every Sunday and Wednesday working the SLAA Step Questions Workbook
Only Requirement Group has switched to Men Only focused on recovering from Narcissism and Porn Addiction
State of Wholeness (Top Lines and Mental Wellbeing) has moved to 8AM Wednesdays IST. 13 week study of the Anorexia Recovery Tools.
Sunday Anorexia CoSponsorship Group (US) starts in January 2022 at 8AM Sundays PST
Womens International Speaker Meeting (worldwide every Saturday) has formally joined SLAAvirtual. Welcome!
All members are invited to join the SLAA Focus on Sponsorship and the Sober Dating Question Workbook Meetings weekly online for all members: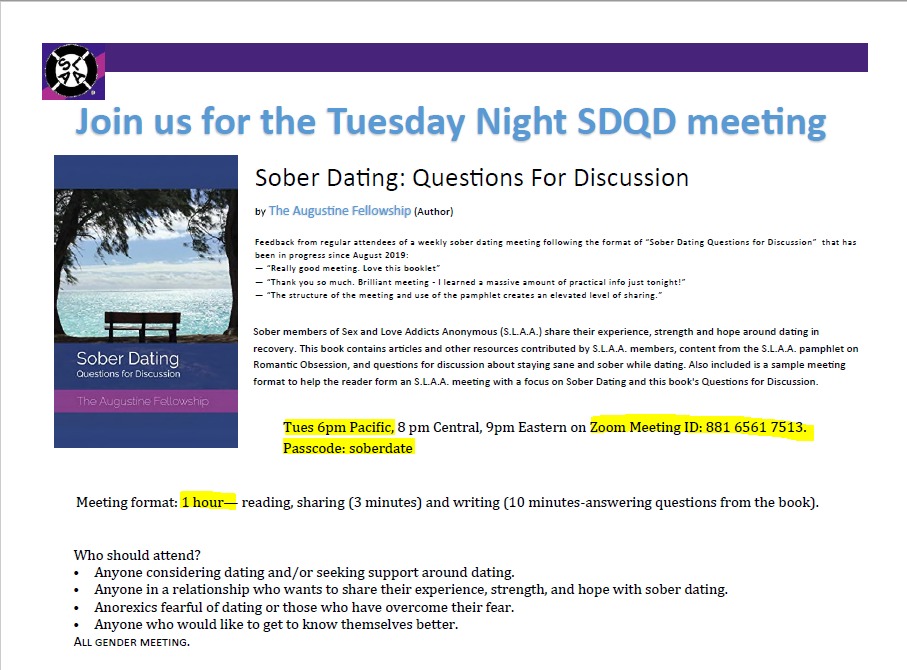 SLAA WhatsApp Groups: new Groups this month include
SLAA Prayer/Meditation
SLAA Women's Love Addiction Group (our first Non Real Time SLAA Group registered with FWS!)
State of Wholeness Group (our second registered non real time SLAA Group!)
SLAA CoSponsorship Workshop (working the Step Question Workbook)
SLAA Sunday (US) CoSponsorship Group (Anorexia Program)
SLAA Womens WhatsApp
Artists in Recovery
SLAA Bookending for Recovery
SLAAvirtual Retreat Planning Committee
SLAA H&I Outreach Group
We maintain a Directory of Groups that welcome sex and love addicts. Contact SLAAvirtual to add your Group.
SLAAvirtual is inviting comments from all members on its first draft Suggestions for SLAA WhatsApp Groups. Email or WhatsApp your comments to Intergroup.
SLAAvirtual Helpline: SLAA's first WhatsApp Helpline. Open 24/7. 12th Step support is now also available in French, Spanish, Portuguese, Hindi and Persian. To join the team of SLAA volunteers contact us.
Sober Sisters Talk – Two new episodes dropped this month! Thank you to Elizabeth, MG and CJ of SLAA Houston for your service:
Hospitals and Institutions: does your Group want to do Outreach with local Treatment Centres, Hospitals, therapists and other treating professionals? The CPIC's Hospitals & Institutions Subcommittee invites interested members to this upcoming event:
Online Meetings 24/7: here is our page of unofficial lists of SLAA Meetings around the clock. You can add your meeting by messaging the relevant List Manager on the Contact Form in their list.
Online Meeting Scripts are shared by Groups here to help others start online Meetings. Thank you for your generous Service!
Inspiration Line: you can call the SLAA Storyline +1 (215) 574-2121 or the Inspiration line +1(215) 574-2120. International call charges to the US apply so we suggest use Skype or similar discounted service.
SLAA's Pamphlets are now for sale for only US99 cents per download to any device. A State of Grace: Daily Meditations is now available on Amazon and Apple iTunes for USD9.99 in downloadable format.
Holiday Special!! For a Limited Time! FREE SHIPPING on all Online Store Orders of USD50 or More. All other discounts apply except the International 25%. Note SLAA is not shipping to these Countries due to Covid
FWS Board News: Jaclyn R the Treasurer has resigned from the Board of Trustees for personal reasons and Christina M (the Secretary) has gone on maternity leave. To apply to join the board, see here.
Despite holding the ABM online the last 2 years, the only way to attend the 2022 ABM will be in-person in Sacramento at a hotel. This effectively excludes the majority of our Intergroups. You can read the Board's Statement for their reasons.
FWS URGENTLY needs volunteers with skills in the area of holding multi-day conferences including an annual general meeting, voting and elections in a hybrid format. Can you help?
Thank you to all those who campaigned for democracy, equal representation and affordable access to the ABM. Although not successful on this occasion, our messages were heard. You can contact our Board of Trustees on this or any other matter here.
SLAAvirtual Intergroup, Inc. met as usual at 4PM ET second Sunday of the Month. All welcome. The main topics continue to be online member safety, the new online store and fundraising. See our Meeting Page to attend.
To volunteer on our editorial team or contribute your Group's news to this Newsletter, contact us.