Post a link to this News in the Announcements Section of your online meetings and Chat Groups:
Tradition of the Month: "3. The only requirement for SLAA membership is a desire to stop living out a pattern of sex and love addiction. Any two or more persons gathered together for mutual aid in recovering from sex and love addiction may call themselves an SLAA group, provided that as a group they have no other affiliation." You can study the SLAA Traditions here.
2022 SLAA Intergroups Forum held on 19 March was fantastic! We heard from members all over the world. Its not too late to register to attend this Sunday, 27 March 2022. Free worldwide event for all Group Reps hosted by the CICC. . Register here.
SLAA in the Media this month:
~ Newsweek published Love Addiction: 7 Signs You May Be Dependent on Relationships suggesting find a support group such as Sex and Love Addicts Anonymous.
~ Verywell Health published What is sexual addiction? naming Sex and Love Addicts Anonymous as a resource. Verywell assists 300m people a year including 17m US readers per month.
~ Graphic Communications, Ghana's largest daily newspaper, published Sexual addiction citing Sex and Love Addicts Anonymous' emotional symptoms of sexual addiction. If you want to do service with our growing Fellowship in Africa, email the great team at SLAA South Africa at info@slaasa.co.za
TheJournal – your meeting between meetings! Two fantastic new issues are available. You can subscribe print copies of the Journal here. Thank you to all the great volunteers on the Conference Journal Committee:
~ Issue #194 – Truth Being Revealed in Higher Power's Time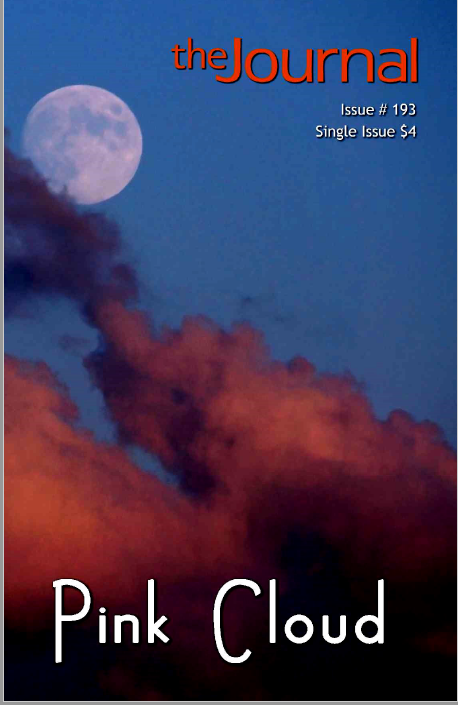 Question of the Day: What is anorexia withdrawal in your experience? What tools helped you deal with the pain of withdrawal from anorexia without retreating back into anorexia? Answer any time before 15 May via this Google Form!
Special Offer until 31 March!! Last Chance! FREE SHIPPING on all Online Store Orders of USD50 or More. All other discounts apply except the International 25%. Note F.W.S. still not shipping to 28 countries. Please see THIS LIST before you order. Countries on the list are not available at checkout.
SLAA YouTube – your sponsor between sponsors! All SLAA Groups and Intergroups are invited to submit recordings to the Channel. For more information, contact the CPIC here.
Group Roles: do you need to define the service roles for your Group? See these suggestions from SLAAvirtual. No need to re-invent the wheel! To request an editable version to adapt for your own Group, contact us.
SLAA Events Calendar lists SLAA events all over the world and online. Please add your Group's events that are open to newcomers.
SLAAvirtual Helpline: SLAA's first WhatsApp Helpline. Open 24/7. 12th Step support is now also available in French, Spanish, Portuguese, Hindi and Persian. To join the team of SLAA volunteers contact us.
Sober Sisters Talk – our favorite podcast here at VFN! Two new episodes this month:
~ Episode 131 – Anorexia + dating apps
Thank you to Elizabeth, MG and CJ of SLAA Houston for your service.
Inspiration Line: you can call the SLAA Storyline +1 (215) 574-2121 or the Inspiration line +1(215) 574-2120. International call charges to the US apply so we suggest use Skype or similar discounted service.
SLAAvirtual Online Meetings – see our Meeting Notice Board for the latest additions. SLAAvirtual Intergroup now comprises 40 SLAA Groups holding 81 Meetings per week. New meetings include two Womens' HOW Cosponsorship Groups, We Agnostics and SLAA for Women with Autism & ADHD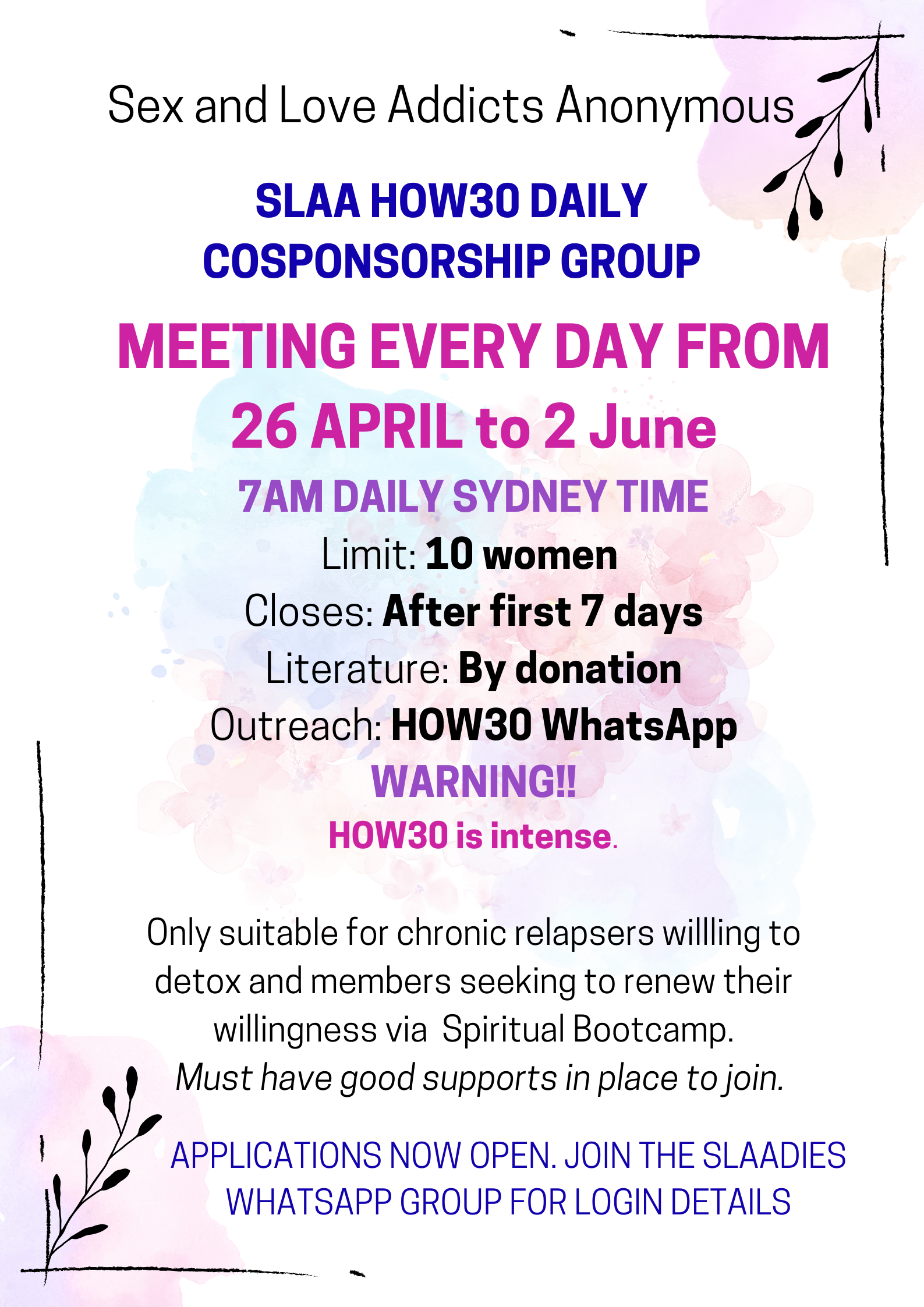 SLAA WhatsApp Groups: see our Directory of Groups that welcome sex and love addicts. Contact SLAAvirtual to add your Group. See here for Step-by-Step instructions how to create your own SLAA WhatsApp Group (WAG). New Groups include SLAA Love Addiction focus and WhatsApp Groups supporting each new meeting.
WhatsApp Suggestions – did you know we have put together a list of Suggestions how to have a successful SLAA WhatsApp Group? One that is safe, supports members and carries the message. Its not too late to have your say! Let SLAAvirtual know if your Group has tried a good idea!
FWS Board News: Sam E of New Jersey has been appointed to the Board of Trustees replacing Jaclyn P. FWS URGENTLY needs volunteers for the Board Technology Committee to help deliver the 2023 ABM including F.W.S.' annual general meeting, voting and elections in a hybrid format. Can you help? You can contact our Board on this or any other matter here.
FWS Newsletter for March Quarter is now available online.
SLAA 2022 ABC/M will be held in person only at Hilton Arden West Hotel in Sacramento, California. Generous subsidies apply this year. Register early by 26 May for even more discount.
SLAA Service Forum: a forum for members doing Service to ask questions and find support. All welcome to join.
7th Tradition: to help carry the message, please consider making a small, regular monthly donation to SLAAvirtual by credit card, PayPal or direct debit here.
SLAAvirtual Intergroup, Inc. met as usual at 4PM ET second Sunday of the Month. All welcome. The main topic has been cybersafety and fundraising to fly our Delegates to the 2022 ABM. See our Meeting Page how to attend.
To volunteer on our editorial team or contribute your Group's news to this Newsletter, contact us.