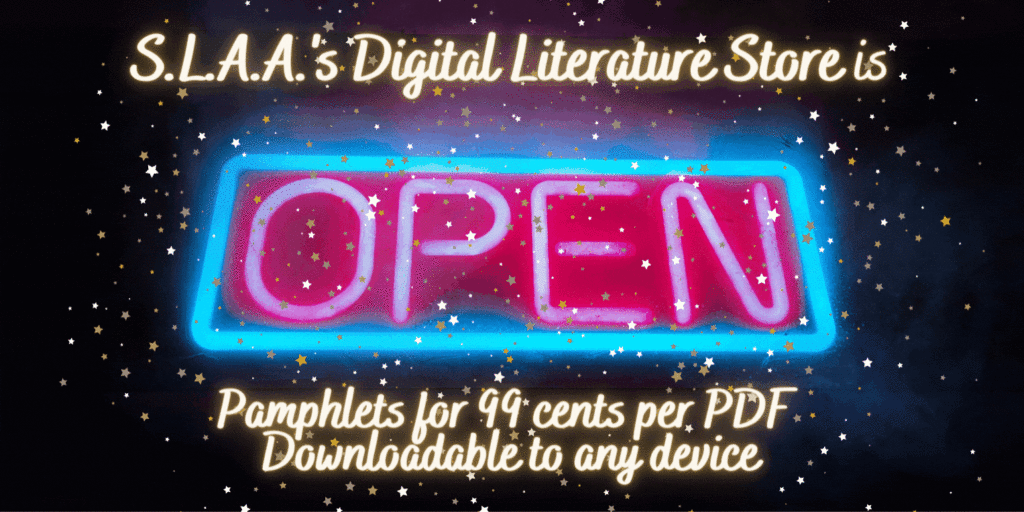 SLAA's new Digital Literature Store is OPEN!!! Congratulations to everyone involved. SLAA Pamphlets are for sale for 99 cents per copy as PDF files that can be downloaded to any device. PLEASE ANNOUNCE AT YOUR MEETINGS!!!
7th Tradition: if you support SLAAvirtual.org uniting the global fellowship and carrying the message of SLAA recovery to every corner of the world, please consider a regular monthly donation of $10 or more.
The SLAA YouTube Channel added four new recordings. Thank you everyone who contributed.
Free shipping! FWS is still offering free shipping for online orders of USD75+ The offer is open for a limited period, and applies to both U.S. and international orders.
Free Journals! Good news! Some of our "meeting between meetings", the Journal, are available online for all Members. Thank you SLAA! Please help SLAA continue its vital outreach to sex and love addicts by donating generously.
Wonder what SLAA Events are coming up? FWS has an excellent new Events Page that converts the event into your local time. So helpful!
Focus on Sponsorship: All members are invited to the weekly international Focus on Sponsorship Meeting and to join the Focus on Sponsorship WhatsApp Group for fellowship and outreach between meetings.
Access, Inclusion and Diversity: SLAAvirtual has added
SLAAvirtual Intergroup has grown to 26 Groups holding 40 SLAA Meetings a week and was incorporated on 15 June 2021. SLAAvirtual started a new SLAA Newsletter Group inviting all members, Groups, Intergroups and FWS to submit items of interest to the online community.
SLAA's Journal Committee is seeking member input to the Question of the Day for the #193 Nov./Dec. edition called Pink Cloud:
According to Dictionary.com, Pink clouding, or Pink Cloud Syndrome, is a phenomenon many recovering addicts experience when they first go into recovery. When pink clouding, they feel a sense of euphoria that's then followed by a crash once reality sets in. Have you experienced a "pink cloud" in recovery? If so, please describe your experience and how it impacted your recovery. How did you maintain your connection to Program/spirituality? Submit your answer by September 15 via this Google Form.
The FWS Newsletter for June 2021 is now available on the FWS Website.
All members doing Service in SLAA are invited to join the SLAA Service Forum to ask Questions and share our experience.
The Sober Dating Questions for Discussion are available on Amazon as an e-publication for only $6.99 and is now available from Amazon as a "print on demand" book.
Sober Sisters Talk released 3 new Podcasts. Thank you for your Service Elizabeth and MG (SLAA Houston):